Discover more from Front Row & Backstage
"The best music history writing online!" says Mike Degen of "Deeg's Poems" on Substack. It's rock, records, and radio, as we go behind the scenes of my years in FM rock radio and the record biz in the '70s & '80s!
👂GROW BIGGER EARS #16👱‍♀️The "Jessica" Playlist with Rick Springfield, Elliot Minor, Seals & Crofts, Chuck Leavell
Rick was into Jessica long before he coveted "Jessie's Girl," who may have, herself, been named Jessica! Plus, other artists have recorded paeans to their respective, fave Jessicas!
1. Chuck Leavell "Jessica" 2005, Evergreen Arts
Originally the second single from the fourth studio Allman Brothers album in 1973, this "Jessica" was written by Allman guitarist Dickie Betts, and of course, was a guitar-led instrumental. Chuck Leavell played keyboards on it 50 years ago, but, in 2005, made it a piano-filled jam on his Southscape album for Evergreen Arts.
Betts originally wrote the song as a tribute to "gypsy jazz" guitarist, Django Reinhardt, and named the song after his daughter, who, as an infant, would bounce in rhythm to the song, as Daddy tried to capture her joy in its melody, in-studio.
Gregg Allman's son, singer/guitarist, Devon Allman, once told Songfacts, "'Flor D'Luna' by Santana, 'Jessica' by the Allman Brothers - these songs don't need words because that lead guitar is doing the talking and the singing" [and for Leavell's arrangement, the piano speaks].
"It's a strong enough melody to stand on its own. Words over that wouldn't make sense because it's already doing the speaking," Allman concluded.
2. Seals and Crofts "Jessica" 1973, Warner Bros. Records
From their fifth studio album, Diamond Girl (Warner Bros. Records, 1973), Louie Shelton (who also contributed guitar) produced this Jim Seals and Dash Crofts composition.
Seals' lyrics, delivered in a clever ascending stair-step in the chorus (which leads off the song), clearly speak of the Jessica that got away:
Jessica, dear Jessica, forget me not and won't you try to write to me, on your wedding day?
Jessica, dear Jessica, you'll look just like a painting in your dress of white as you walk away.
But just remember who taught you how to kiss. I'm gonna miss you.
Remember back when you were just a lonely girl, all alone in a lonely world.
Did I try to care too much, or have I lost my touch?
3. Rick Springfield "Jessica" 1976, Chelsea Records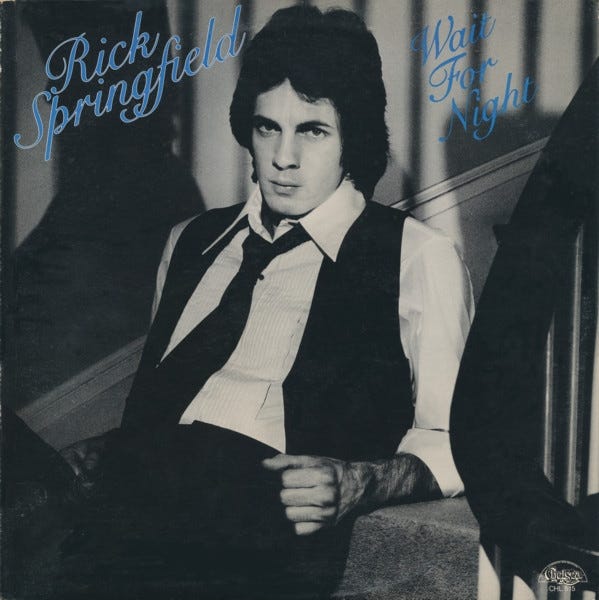 With a radical tone shift from the acoustic and wistful Seals & Crofts "Jessica," we move to Rick's dynamic "Jessica" (with chunky chords, pounding piano, and blink'n'-you'll-miss-it "Layla" riff!) some five years removed from the dynamism and hits he'd know with RCA.
Wait For Night was Rick Springfield's fourth album, released in 1976 by relatively small Chelsea Records (founded in 1972 by record producer and Partridge Family ABC-TV music director, Wes Farrell). "Small" certainly compared to the early-'70s albums he released on both Capitol (1972) and Columbia Records (1973), and the 1981 break-out he'd have for RCA.
In fact, RCA capitalized on Rick's Working Class Dog album success and "Jessie's Girl" hit single, purchased the album's rights, and re-released Wait For Night the following year, in 1982 (seen above)!
"Jessica" was the third of five singles sprung from Wait For Night! Two of the album's 1976 session players were Elton John's rhythm section (concerts and recordings) from 1970 through the August 1974 recording of Captain Fantastic and the Brown Dirt Cowboy album.
A year before recording Springfield's Wait For Night, bassist Dee Murray and drummer, Nigel Olsson, played on the 1975 sessions for RCA Records singer/songwriter/guitarist (and key FRONT ROW & BACKSTAGE contributor), Stephen Michael Schwartz:
Included in the above article are rare and exclusive in-studio photos from Stephen's personal collection of Dee, Nigel, young guitarist, Lee Ritenour, and keyboardist, album music director (and eventual 16-Grammy-winner), a 25-year-old David Foster. One example:
4. Elliot Minor "Jessica" 2008, Repossession/Warner Bros. Records (released in UK, Germany, Japan)
Apparently the name of the band, Elliot Minor is called by most an "indie" or "alternative" band, but they're nowhere near that level of banal pretentiousness. I just ran into this song a few days ago, and I'm callin' it: They're power pop.
If the rest of their recorded product is some guy singing over a chainsaw, a pneumatic drill and a muffler-free bulldozer, fine…I'll reassess.
But, for now…"Jessica," whatever else she may or may not be, is a righteous banger.
Besides, "bitchin'" is the word for a band with aggressively-strummed guitars, drums and keyboard beaten senseless and into glorious submission, and a cello and two violins chugging along mightily to a tightly-crafted earworm!
Written by band members Alex Davies (lead singer/guitar/keyboards) and vocalist/guitarist, Ed Minton (according to Songfacts), after watching a bunch of her movies, this song is an ode to the actress, Jessica Alba. From York, England, the Elliot Minor quintet is rounded out by drummer Dan Hetherton, bassist Ed Hetherton and keyboardist Ali Paul.
Mentioned in the lyrics are Alba's movie, Sin City, and her TV series, Dark Angel. Why did they decide to write a song about Alba? As the band explained in a press release they felt was needed, "She's hot":
In 2006, Elliot Minor won a MySpace competition to support London poppers, McFly, for one show on their Greatest Hits tour with an audience of over 13,000 at Manchester.
"Jessica" was the second single for Elliot Minor, following up "Parallel Worlds," which hit #31 in the UK. All the band members are classically trained and were all members of choirs in high school. "Jessica" demonstrates their classical background, with strings, piano and orchestral accompaniments (as can be seen in the video below).
Performed in the above Playlist by something called The Cover Sisters (because Elliot Minor's album is not on Spotify), here's the actual band playing the song in their official video:
5. Coheed & Cambria (feat. Rick Springfield) "Jessie's Girl 2" 2020, Roadrunner Records
A little Playlist cheat, if you will…we welcome back Rick, with this odd "Jessie's Girl 2" sequel to his 1981 smash. He picks up the lead vocal just past the halfway mark, starting Verse 3, and joins in with Claudio Sanchez on the ensuing chorus (Rick and Claudio share songwriting credits; the band produced)…the song offers a surprising-twist narrative that helps explain the cover's horror-movie depiction, shown above…read the lyrics and their meaning, here, on Genius.com.
Rick clearly has fun with this, giving us a knowing wink with the song's "in the '80s" reference!
Plus, let's assume that Jessie (originally a friend of Rick's named Gary, changed in the song to "Jessie"…well, just 'cause) now has a girlfriend whom Rick covets…but, unlike the original song, this girl has a name….work with me here….it's Jessica! Now, we can get this song in!
Coheed and Cambria (above, tending to their abundant plaid farm), formed in 1995, are from Nyack, NY. Those who claim to know call them "progressive rock," and even assert they occasionally travel into the pop, heavy metal, and post-hardcore lanes.
The band consists of Claudio Sanchez (vocals, guitars, keyboards), Travis Stever (guitars, vocals), Josh Eppard (drums, keyboards, backing vocals), and Zach Cooper (bass, backing vocals)…and, of course, on this track, one Rick Springfield on vocals!
More GBE Fun? Let's celebrate cover songs about magic:
FRONT ROW & BACKSTAGE is a reader-supported publication. To receive new posts and support my work, consider becoming a free subscriber! To receive new posts, support my work, and receive 2 EXCLUSIVE BONUS GOLD PASS POSTS a month, please consider upgrading to a Paid Monthly or Annual Subscription! Thanks!