Discover more from Front Row & Backstage
"The best music history writing online!" says Mike Degen of "Deeg's Poems" on Substack. It's rock, records, and radio, as we go behind the scenes of my years in FM rock radio and the record biz in the '70s & '80s!
Roy Wood, The Wizzard of Odds, 76: The Rock Hall-of-Famer You've Never Heard Of
A Limey and a Yankee tell their personal early-'70s stories from across the pond, digging the former ELO founder who made incredible rock sides, many going unheard in the States!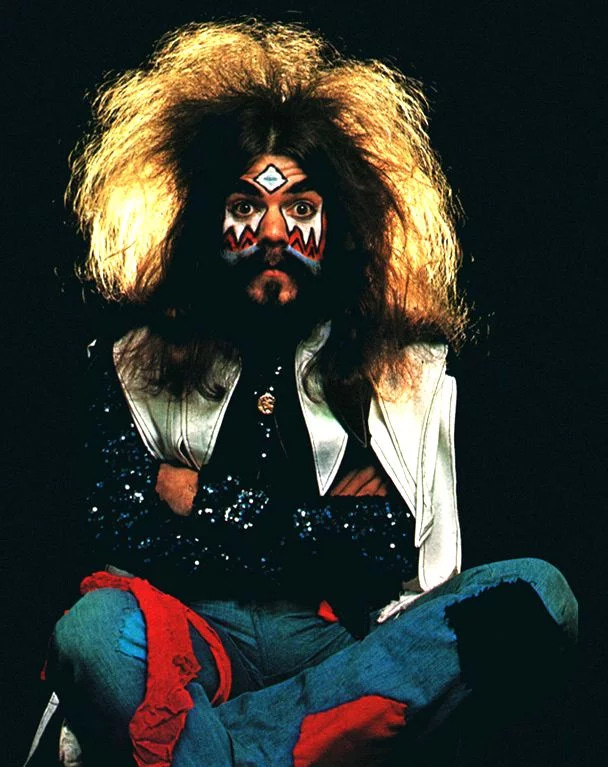 The Kwiki: Quick Wiki Thumbnail
Roy Wood (he'll be 77 before Thanksgiving) is an English musician, singer and songwriter, particularly successful in the 1960s and '70s as member and co-founder of the Move, Electric Light Orchestra (ELO, with Jeff Lynne and Bev Bevan) and his own Wizzard.
As a songwriter, he contributed a number of hits to the repertoire of these bands. Altogether he had more than 20 singles in the UK Singles Chart under various guises, including three UK #1 hits.
The BBC has described Wood as being "responsible for some of the most memorable sounds of the Seventies" and "credited as playing a major role in the glam rock, psychedelic and prog rock movements."
A brief overview of Wood and Wizzard, featuring an interview with the man, himself, from 1995:
In 2008, Wood was awarded an honorary doctorate for his contribution to rock and pop by the University of Derby. In 2015, his long and eclectic career was recognized with the "Outer Limits" award at the Progressive Music Awards in London.
Wood was inducted into the Rock and Roll Hall of Fame in 2017 as a member of ELO:
To me, transitioning from my 1973 Houston, TX-area high school graduation to my first year of college, fall of '73, at N. Texas State U. in Denton (30 miles north of Dallas), Roy Wood and his recorded shenanigans was as much a part of my personal soundtrack as David Bowie, T. Rex, Mott the Hoople, and so many other British artists.
And, it wasn't just the make-up that I was drawn to, although in the early half of that decade, Maybelline and Clairol products were as ubiquitous on the tour bus as amps, roadies, and Sable Starr. I was into the whole glam/punk/whatever scene, sure, but I was also into the British music tabloids, NME (New Musical Express), Melody Maker, and Sounds.
At the time the May 5, 1973 issue of Melody Maker (shown below) hit the UK newsstands, Roy was promoting his new Wizzard single, "See My Baby Jive," which was released a month earlier:
This YouTube video is from UK's Top of the Pops in 1973, necessary to appear on if you're an artist pushing a new single, much like the U.S. TV staple, American Bandstand. And, like Dick Clark's long-running show, TOTP also featured their artists lip- and instrument-synching to track, including Wizzard & their "See My Baby Jive":
And, it's from those rags I'd learn about the latest on the British scene from the big names you'd expect, but also artists who didn't (and never got) American airplay, sales, or shockingly in some cases, no U.S. record deal!
The following fall of 1973 found me at Kerr Hall, the co-ed freshman dorm at N. Texas Stage University. At the same time, "Angel Fingers" was slamming into the top spot on the UK Singles Chart:
These two ("See My Baby Jive" and "Angel Fingers"—both hit #1 on the UK Singles Chart) were my two favorite Roy/Wizzard songs (along with that Christmas song…we'll get to that), and I played these import singles constantly.
What initially might sound like a pile of noise for each of these Wizzard singles is really a carefully-crafted, melodic pop song that could stand alone quite well without the layered production of multiple instruments.
But, that Wood can marry a 1950s/early-'60s sounding rocker with decidedly Phil Spector-ized production techniques, and make it work as a breathless and rousing pastiche of styles, is something to behold. You'll notice also, the use of some Sgt. Pepper-era Beatles elements, like oboes, plucked violins, and French horns, as well as full orchestra. American radio, though, wanted none of it.
The third floor of Kerr Hall, if they had not heard of Roy Wood and Wizzard, I made sure they heard them, including "Forever," a November 1973 release (credited just to Roy, sans Wizzard, as well as that band's makeup), which also became a personal favorite. Roy, for this song, brings in some very Beach Boys-inspired harmony vocals! In fact, look what Roy made sure was written, lower right, on the UK Harvest/EMI label for the 45.
Rare Top of the Pops rehearsal footage, here; not to worry, the taped/aired performance wasn't played live…it was all synched-to-track, as well, so no mics were actually on. Note that the brief conversations after the song plays are barely audible; that's because the mics you see are all dead!
Related: The Roy Wood/Wizzard Cover Playlist:
Ian Sharp: I studied for years (and years) with The Open University, including a course on popular culture, followed by a master's degree in education. As a writer, naturally, I also read widely about music.
Roy Wood has always made superior pop/rock records, right back to the 1960s with The Move (pictured below, Roy on the left, late '60s), probably because Wood was drawing on his appreciation of musical history going back to the earliest days of rock 'n' roll and marrying it with the hippie spirit of the '60s and the pop charts.
I loved the single "Blackberry Way" (above) as a child. In 1967, "Flowers in the Rain" (below) become the first record to be played on Radio 1 (the BBC's replacement for the outlawed pirate radio stations. The reshuffling of the BBC's radio output to accommodate pop music was exciting and significant).
The Move could do heavy too - hear, for example, "Do Ya" from 1972 (later recorded by ELO in 1977):
Time to move on: Wood founded The Electric Light Orchestra (ELO) with Jeff Lynne in 1970, but it seemed Wood wanted to be more experimental, and Lynne more commercial. Early ELO with Wood is noticeably different to Lynne's approach (although post-Wood ELO has some merit). Wood says they didn't really disagree, but also says he left because he could see the arguments coming.
Wood's next venture was Wizzard, who married the commercial with the experimental. They had several hits - "Ball Park Incident," "See My Baby Jive," "Angel Fingers," and of course, "I Wish it Could Be Christmas Everyday":
Wizzard were fixtures on Top of the Pops, with Wood leading the band wearing incredible hair and makeup, looking like a futuristic caveman (r).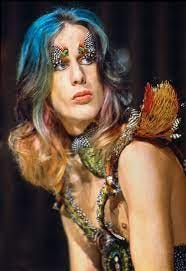 They were frequently lumped in with the UK glam/glitter rock genre but always had more substance than that (not that the likes of Marc Bolan—and his T. Rex—and Bowie were insubstantial, but perhaps they were lumped in too, especially Bowie).
But if you bought Wizzard's first album, 1973's Wizzard Brew (above; Wood produced, with Alan Parsons engineering), on the back of the hit singles, you were in for a shock: None of the singles were on the original album (they've since appeared as extra tracks on reissued versions).
Okay, so the album presented slightly less poppy, but still recognisably Wizzard songs? No. On Wizzard Brew, they range across a number of genres, including three looooong tracks shifting between rock, pure rock 'n' roll, jazz, and big band.
Wizard recorded for EMI's Harvest label, designed for their progressive releases - for example, Pink Floyd.
I was the nerdy kid who one day announced at school, "That's weird, the last three singles I've bought have been on Harvest," and was surprised to be looked at as though no normal person would notice such a detail! Being normal is over-rated though. At the time (1973) there were a lot of teenagers who would buy singles and not albums. And, the people who would buy albums regarded singles as beneath their attention. My cousin used to say anything too poppy was "commercial rubbish."
I bought the Wizzard singles and also loved the B sides (they were also not on the album, but gave a clue this wasn't necessarily the band you thought it was). I imagined one track, "The Carlsberg Special (Pianos Demolished Phone 021 373 4472)" could be the theme music to my rock music radio show (to be clear, that show has only ever existed in my head).
And, Wood also made solo albums, including his solo debut, Boulders (1973, on Harvest in the UK, United Artists Records in the U.S.), on which he played all the instruments (and produced; Alan Parsons engineered), and showed he could do beautiful ballads (I loved "Dear Elaine," below) and the daftness of "When Grandma Plays the Banjo."
But, at least in the UK, Wood will always be best known for the Christmas hit. It appears on almost every Christmas hits compilation, and is always one of the first records played on UK radio when it's time to dust off the festive playlist (together with Slade's "Merry Christmas Everybody").
I'm sure there are many people who think this was a one-off novelty hit single, complete with the traditional choir of school kids, and know nothing more about him. I guess he's not bothered about that.