Discover more from Front Row & Backstage
"The best music history writing online!" says Mike Degen of "Deeg's Poems" on Substack. It's rock, records, and radio, as we go behind the scenes of my years in FM rock radio and the record biz in the '70s & '80s!
Tune Tag #5 with Steve Goldberg: The Genesis Edition--Peter Gabriel, Paula Cole, Phil Collins, Roxy Music & More!
It takes two to tangle:👂The Earworms & Song Loops maestro matches Tune-Taggin' wits with FRONT ROW & BACKSTAGE! The results: Malodorous👃or melodious?🎶
This special Genesis Edition of Tune Tag was inspired by Steve Goldberg's recent Earworms & Song Loops post, Genesis: No Reply at All:
How to Play: Tune Tag veterans will know that, ideally, each track Steve and I send the other will have some tie-in with the one previously sent! Whether thematically or musically, the challenge is to pick a common element for a song to send to the other player.
Please note: The comments written by each Tune Tag player are written in real time, before each see the comments from the other! In other words, Steve won't see my comments until this is published (and, I only saw his after I had written mine)!
Play along, if you'd like (which song would you follow with? Leave us a comment!), and consider playing Tune Tag with a friend!
Steve's #1 Song Sent to Brad: Genesis, "Mama," 1983
Steve's rationale: I chose this one because it feels like a birth, or more accurately, a rebirth. Genesis' self-titled album title essentially announces in no uncertain terms that the 3 remaining members considered it a new beginning (after 11 previous studio albums).
I thought it was a bold choice to start the album with a 6 1/2-minute song filled with drum machines and moody keyboards. Not to mention that "Mama" is supposedly about a young man's obsession with an older female prostitute: Not exactly fitting in lockstep with Top 10 album hits, "That's All" and "Illegal Alien." 
Brad's #1 Song Sent to Steve: Wild Frontier, "I Know There's Something Going On," 2007
Steve's response: I was flummoxed at this pick at first. I knew that Frida (aka Anni-Frid Synni Lyngstad of ABBA) had a song by the same title. But Brad chose the band Wild Frontier, who I was not familiar with. Was it the same song? I looked them up and discovered that they are a German hard rock band named after a 1987 Gary Moore song.
On Discogs, it shows that they have 7 albums. Their most recent, Bite the Bullet (2007, released only in Germany, shown above), has a bonus track, "I Know There's Something Going On," which was originally written by Russ Ballard (formerly of Argent, and since, a longtime songwriter and producer who'll turn 78 on Halloween).
Did Ballard write the Frida song too? I searched on Spotify and voila! It is a cover of the Frida song! But what was the connection to Genesis? 
I knew Brad had featured Russ (shown above a few decades apart) a few times on FR&B [like this acapella "Magic" Playlist, newly-freed from the Paywall…now FREE for all!]. That dude writes for everyone! Was Russ Ballard a guest on a Genesis album? Did he co-write one of their songs? And then I figured it out!
Phil Collins produced Frida's There's Something Going On album (above)! I assume he played drums too, as the rhythm is very Collinsesque. You can't fool me, Mr. Kyle! I have to say that the 2007 Wild Frontier version is not my cup of tea. I prefer the Frida version.
Brad's reply: Collins sang and played drums on "Mama," while producing, as well, the Frida album just the year before (adding background vocals). While Phil produced, longtime Genesis producer Hugh Padgham engineered. With multi-year Genesis tour guitarist, Daryl Stuermer, on the Frida track, too, we're about as close as we can get to proclaiming, "Imagine Genesis with a female lead singer!" Outrageous? How about, "Can we hear ABBA perform 'Supper's Ready'?🤯
Steve's #2: Paula Cole, "Where Have All the Cowboys Gone?" 1997
Brad's response: Hmmm. My concern was that Steve was led astray by the non-direct (but, still TT legal) of the cover of a Collins-produced hit (by Wild Frontier of Frida's "I Know…"), and not the hit itself.
I loved Cole's song when it hit in 1997, but never knew there was a Genesis connection….Peter Gabriel with vocals on that same album's "Hush, Hush, Hush" from her This Fire, her second.
Absolute mad props, Steve, for a deliciously, deviously-connected link….HUGE! I was totally blind-sided. I wish you coulda seen my face….."WHAT?! PETER GABRIEL?!? What's HE doing here?!" I never had the Cole album, but really enjoyed the single.
Steve's rationale in choosing the Paula Cole single: I was gonna try and fool Brad with a cover version of this song, but I didn't find any good ones. And the original is too good to not use it. 
I got the privilege to meet Paula back in 2000, when I was working as a videographer at the WOMAD (World of Music, Arts, and Dance) festival in Seattle, WA. She was performing there and I filmed her show and her interview. She was the nicest person.
So was Bonnie Raitt, whom I got to film there as well.
On the last day of the festival, I filmed a certain famous person who happened to be the 1980 founder of the WOMAD festival; I believe he's got two first names and sang for Genesis?😊 
Oh, and I'm sure Brad figured this out right away: Paula Cole was a backup singer for Peter Gabriel for his "Secret World Live" tour in 1993-94. She sang the Kate Bush and Sinead O'Connor parts of the duets for "Don't Give Up" and "Blood of Eden."
Brad's #2: Genesis, "Ballad of Big," 1977
The aforementioned Gabriel was two years gone by this time (at the release of 1977's …And Then There Were Three album), but "Ballad of Big" has long been a favorite of mine in the "lesser-known" Genesis canon-category. Again, the melodies, but the switching back from one tempo to another and back again! I was curious to see if a search could uncover any Genesis song with the word "cowboy" in it! Bingo!
Steve responds: I'm going to assume this was Brad's way of connecting the "cowboy" motif back to Genesis, choosing the dark, Western-themed "Ballad of Big." It's quite possibly the Phil Collins-led Genesis album I know the least, so I wasn't familiar with the song, other than having heard it a couple of times in my life. It's kind of a funny track as it is not a ballad, and Genesis is quite possibly the least "cowboy" band I can think of. I thank Brad for choosing it as it made me listen to …And Then There Were Three again for the first time in decades.
They didn't do it live very often. Here's one from the '78 tour at NYC:
Steve's #3: Peter Gabriel, "Four Kinds of Horses," 2023
Brad's response: I think Steve, while also staying within the Genesis universe, was staying with (or returning to) the cowboy theme of Paula Cole that he started earlier.
Steve's rationale for this song: It should be obvious why I chose this one: I wanted to keep in step with the cowboy/western theme. But also, I wanted to include one of the new Peter Gabriel songs in this Tune Tag, and was happy to see that he had something that fit!
I've found his "Bright Side/Dark Side" project hit and miss, but this song wonderfully captures Gabriel's emotionally rich tenor. I also love the lush production of this song. [Gabriel's i/o album on the UK-based Real World Records he co-founded in 1989 with other original members of WOMAD, is scheduled for late 2023 release].
Brad's #3: Roxy Music, "Do the Strand," 1973
Steve's response: Damn, Brad! You went and chose one of my all-time favorite songs! For Your Pleasure is the Roxy Music album I play the most, and "Do The Strand" is clearly a stand-out. It was a concert-closer for their live shows for a reason! I was flummoxed at first, as to why he picked it for this tag.
I'm pretty sure no one from Genesis plays on this song. And Brian Eno didn't produce any Genesis albums. Ah, but Phil did play drums on Eno's Another Green World and Before and After Science. That's got to be the connection, no?
Brad's rationale: Not being at all familiar with that recent Gabriel track, I noticed "Four Kinds of Horses" had Brian Eno on rhythm programming, synthesizers, electric worms, and processing.
Which, of course, led me to Eno's second album with his first real national exposure, Roxy Music and their Bryan Ferry composition, "Do the Strand," released in March '73. I know Steve will pick up on the Eno link. Afterthought: And, if he doesn't, I wasn't aware Collins played on two Eno albums!
Steve's #4: Genesis, "Follow You Follow Me," 1978
I picked this one for three reasons: First, for the title, which seemed perfect for a Tune Tag project. I mean, that's what we're doing, following each other. Second, I  thought it was fitting to choose another song from …And Then There Were Three.
Well, more fitting to choose three songs from that album! But then it would be a bit obnoxious. Lastly, I chose it because it's a great song! And I had forgotten it was even on …And Then There Were Three! I always played it on their 3 Sides Live album.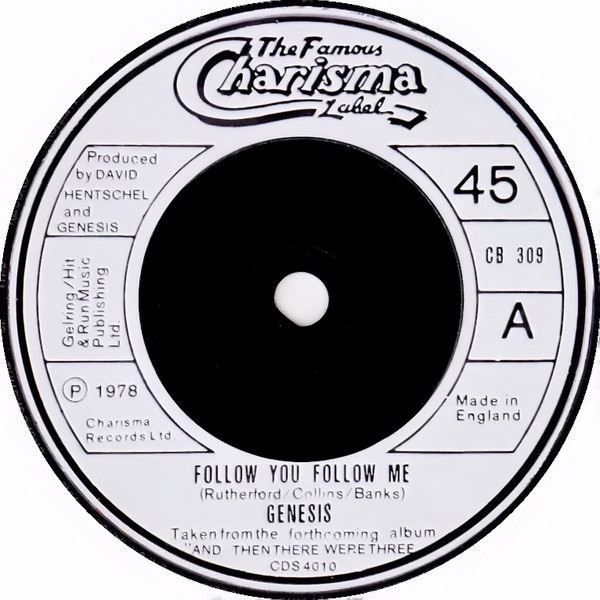 Brad's response: Steve chose the A-side song to link to its B-side, my #2 song, "Ballad of Big" (above)! Shrewd Tune Tag-gin', Steve!😎
Brad's #4: Phil Collins, "I Don't Wanna Know," 1985
This track, from 1985's No Jacket Required, was written by Collins and Daryl Stuermer, who played guitar on several Genesis albums (as well as this track), and regularly toured with the band for decades.
Steve responds: Excellent choice to end on - though I would have picked Collins' "Both Sides of the Story," as that is what we are providing here. But, I shouldn't have said anything, because Brad made his feelings clear: "I Don't Wanna Know." Brad:🤣 
Steve: It was fun to hear that song again -- it's been a while, and it does really hold up. Fun Genesisian Tune Tag, Brad!