Discover more from Front Row & Backstage
"The best music history writing online!" says Mike Degen of "Deeg's Poems" on Substack. It's rock, records, and radio, as we go behind the scenes of my years in FM rock radio and the record biz in the '70s & '80s!
Video to Vinyl, 1978: Lynda Carter, "Portrait" on Epic Records: TV's Wonder Woman as Pop Star
The first woman to deliver a movie trailer voice-over also recorded an album for CBS Records. Oh yeah, she also wore a bathing suit on TV.
In the pantheon of DC Comics Justice Leaguers, Wonder Woman appears to be the only one to have ever won a recording contract. Superman? Nope. Batman? Ha! Have you ever heard him sing? Green Lantern, The Flash, Cyborg, and Aquaman….all nada.
But, in 1978, ABC-TV's Wonder Woman, Lynda Carter (as Diana Prince/WW), managed to wrest a vinyl deal from Epic/CBS Records (U.S.) for one album, called Portrait. Her hour-long, live-action adventure series ran for three seasons, from November 1975 (on ABC) to 1979 (the final two seasons on CBS as The New Adventures of Wonder Woman).
In fact, it's the show's relationship with CBS-TV that may have helped secure, for Lynda, her recording contract with the Records Division of the mega-corporation.
The Lynda Carter Origin Story
Lynda Jean Cordova Carter, now 71, was born in Phoenix, and was crowned Miss World USA 1972, and finished in the top 15 at the Miss World 1972 pageant. To answer those who might "accuse" CBS of capitalizing on a TV star to maximize corporate profits in the recording lane, Lynda actually had a respectable and consistent musical life, growing up.
Lynda attended both Globe High School in Globe, Arizona and Arcadia High School in Phoenix. During high school in the mid-to-late-'60s, Carter performed in a band called Just Us. The band included a marimba, a conga drum, an acoustic guitar, and a stand-up bass, which was played by another girl in the group.
At age 15 (1966), Lynda began singing in the local pizza parlor to earn extra money. When she was 16, she joined two of her cousins in another band called The Relatives:
Actor Gary Burghoff (Radar in M*A*S*H) was the drummer for the band.
The group opened at the Sahara Hotel and Casino lounge in Las Vegas for three months; because Lynda was under 21, she had to enter through the kitchen.
She attended Arizona State University, but after being voted "Most Talented" student, she dropped out in order to pursue a career in music. In fact, she toured as a singer with several rock groups before returning to Arizona in 1972. One of those touring bands was The Garfin Gathering, shown here:
Lynda, here in 1971 (audio only in a recording the band self-pressed, not for sale, but for self-improvement opportunities), fronting The Garfin Gathering (led by the late Howard "Speedy" Garfin, who passed away, at 86, in 2021), on the 1968 Otis Redding song, "Hard to Handle," later made a 1990 hit by The Black Crowes:
Move over, John Facenda and Don LaFontaine: Lynda became the first female to voice a film's trailer, with her 1975 work on Warner Bros.' The Drowning Pool, starring Paul Newman:
Lynda, guesting on The Tonight Show Starring Johnny Carson on November 11, 1975, a couple days after ABC's airing of the Wonder Woman pilot: She tells Johnny how she got her show-biz start, including her Phoenix-based singing and band-touring:
More Video to Vinyl:
Spring 1978: Epic Signs Lynda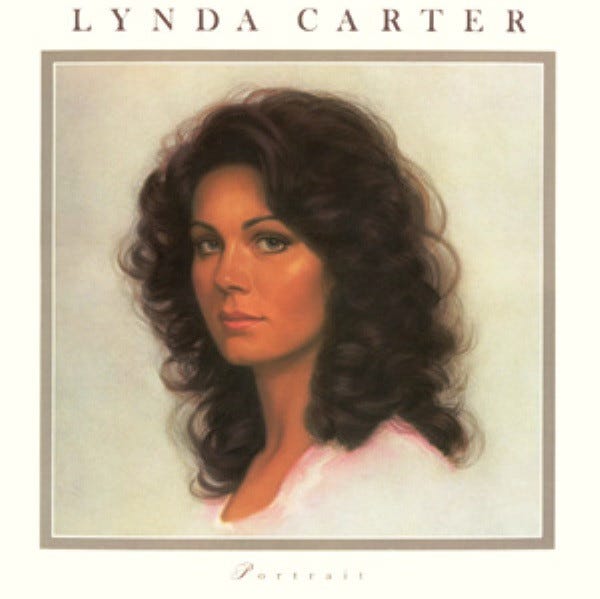 Perspective on Portrait
Timothy Monger from AllMusic: "It's easy to discount crossover albums by Hollywood stars as either a publicity stunt or the indulgence of a celebrity at the peak of their popularity.
"Following the second season of her wildly successful turn as the star of CBS's Wonder Woman television series, actress Lynda Carter crossed over into the pop world with her recording debut. Fortunately, hers was an indulgence worth taking.
"As it turns out, long before she wielded the lasso of truth or flew an invisible jet, Carter had sung in bands as an Arizona teenager, even dropping out of college to pursue a short-lived music career in San Francisco. She eventually landed in L.A., and in 1975 earned the acting role which made her an icon, but music had been a major part of her life and she now had the power and connections to pick up that thread."
Produced by Vini Poncia (who shows up on an FR&B GROW BIGGER EARS Playlist of "I Love You" songs; Poncia co-wrote, with Phil Spector and Pete Anders, The Ronettes' "Do I Love You?"), Portrait features three Lynda co-writes, and covers of a Billy Joel and a Doris Troy song.
There are also three songs written by former ABC/Dunhill Records/U.S. (RCA/Canada) folk singer/songwriter, Bob Siller (whose 1968 LP is shown here):
Portrait Track Listing:
"All Night Song" (Bob Siller) – 4:47

"She's Always a Woman" (Billy Joel) – 3:09

"Tumbledown Love" (Don Dunn, Bob Siller) – 4:44

"Just One Look" (Gregory Carroll, Doris Payne) – 2:34

"Fantasy Man" (Lynda Carter, C. Siller) – 4:39

"Lines" (Don Dunn, Art Munson) – 4:20

"Want to Get Beside You" (Lynda Carter, Don Dunn, Art Munson) – 4:06

"You're the Only One Who Understands" (Charles Clinton Smith) – 4:22

"Put On a Show" (Bob Siller) – 3:44

"Toto (Don't It Feel Like Paradise)" (Lynda Carter, C. Siller, Bill Cuomo) – 3:31

"Everybody"-Alternate Version

"If You Walked Away" (David Pomeranz)
Track #12, included on a 2013 re-issue (but not on the original '78 release), is "If You Walked Away" by singer/songwriter, David Pomeranz, who originally sang it on his 1975 Arista Records album, It's In Every One of Us (like Lynda's album, produced by Vini Poncia). Here, David (who has landed 2 hits with Barry Manilow, including 1976's Top Ten "Tryin' to Get the Feeling Again") duets on his song with Filipina singer/actor/TV host, Sharon Cuneta:
Pomeranz and FR&B's Stephen Michael Schwartz have written songs together, with one of them, "Right Foot, Left Foot," featured here:
On the Portrait sessions were Art Munson and Clark Garman on guitar, Bill Cuomo (who co-wrote Steve Perry's solo 1984 hit, "Oh Sherrie") on keyboards, Colin Cameron on bass, and Ralph Humphrey on drums. Tom Saviano arranged the horn section (as he did for the Pomeranz album), and the late Barry Fasman (who passed away in November 2021, and was Jose Feliciano's former music director) pulled the strings.
AllMusic's Monger wrote that Carter, on Portrait, possessed enough talent as a vocalist to be taken seriously beyond her Wonder Woman fame: "Her voice is tuneful and pleasantly husky, and the material is delivered with confidence." Monger ranked the album 3 stars out of 5, and wrote that the album's main failing was too many mediocre songs that made the album competent, but undistinguished.
In 2015, MeTV called the overall vibe of the album as "pure soft rock gold, somewhere between Anne Murray and [the late] Christine McVie."
The Inevitable: The Super Hero Sings! But, Will it Bring Down Her Arch-Nemesis?
In Season 3 of Wonder Woman (and airing in February 1979), Lynda is given a plot line that offers her the opportunity to tub-thump her new album by singing a couple songs from it! Parker Gabriel of IMDb expounds on the credulity-stretching premise: "Diana Prince poses as a singer, using the cover identity of 'Kathy Meadows,' so that, as Wonder Woman, she can crack a record-extortion ring" while singing the song, "Toto (Don't It Feel Like Paradise)," from Portrait.
The episode was titled, "Amazon Hot Wax," taking off on the title of the 1978 movie about rock music and radio, American Hot Wax.
In a bit part in this episode, you'll notice Rick Springfield (dressed all in red in the clip below, he made his first WW guest appearance in January 1978 in the "Screaming Javelin" episode), still two years away from releasing his breakthrough RCA album, Working Class Dog, with its smash single, "Jessie's Girl," and starring in the General Hospital soap, both in early 1981.
As an aside, this writer met Rick when he wandered into the Music Plus Records store in Glendale, an L.A. county suburb (he lived nearby) in late '80, a few weeks before either his record or afternoon TV soap came before the public (we also featured Rick's 1984 song, "Taxi Dancing," accessible by clicking here):
In 1980, Lynda was a Season 4 guest on The Muppet Show, performing a cover of The Spinners' #2 hit from 1976, "Rubberband Man" (written by Linda Creed and the late Thom Bell).
But, we're including this performance from Lynda's January 12, 1980 CBS-TV Special (guest stars, Kenny Rogers and Leo Sayer), because the variety show kitsch quotient is so off the charts (in one of the last true vestiges of that deliciously decadent TV genre—the variety show! Just ask NBC's Pink Lady & Jeff, whose weekly variety show debuted six weeks later, and was pulled after only five aired eps!):
Not to be outdone, FR&B has also covered The Spinners, and their 1972 hit, "I'll Be Around":
In 2015, Lynda sang on the video game soundtrack to Fallout 4:
Lynda and French singer Michel Polnareff had a romantic relationship in 1973. Polnareff had three albums on Atlantic Records (U.S.) from 1974-1978, with none charting. She's since been married twice.
In 1985, DC Comics named Carter as one of the honorees in the company's 50th anniversary publication, Fifty Who Made DC Great, for her work on the Wonder Woman series. She ranked #42, just below filmdom's original Superman, Christopher Reeve, but above Supergirl, Helen Slater's 1984 film role, and Superman Peanut Butter (#49).
Am I the only one to see the product-placement potential of Wonder Woman pulling out a jar of Superman every time she gets in (say it with me)….a jam?:
On April 3, 2018, the Hollywood Chamber of Commerce honored Carter with the 2,632nd star on the Hollywood Walk of Fame. The star is at 6562 Hollywood Boulevard in the television section.
That same year, Lynda released an album of covers, Red Rock'n Blues, featuring songs by Al Green, the Supremes, the Everlys, Chris Issak, Billie Holiday, Jason Mraz, Danger Mouse, Springsteen, as well as four written with keyboardist and former Motown staff pianist, John Jarvis, who's played on sessions with Rod Stewart, Ringo, Nilsson, Stephen Bishop, Air Supply, Chris Botti, Art Garfunkel, and others:
On December 13, 2022, Carter, along with a handful of others, were inducted into the California Hall of Fame.
She's been busy in the studio recently, too. From 2022, her latest: Here's what Lynda told Broadway World in July: "I'm in awe of what Dave Audé can do with a song, and I'm thrilled and flattered that he connected with it instantly. He took me on a new musical journey that I am sooo in love with--it makes me want to go out to a club and let my Divine side loose on the dancefloor!":
Front Row & Backstage is a reader-supported publication. To receive new posts and support my work, consider becoming a free subscriber! To receive new posts, support my work, AND receive twice-a-month EXCLUSIVE BONUS GOLD PASS POSTS (and have full access to the Locked Legacy FR&B Archives), please consider upgrading to a Paid Subscription! Thank you!