Discover more from Front Row & Backstage
"The best music history writing online!" says Mike Degen of "Deeg's Poems" on Substack. It's rock, records, and radio, as we go behind the scenes of my years in FM rock radio and the record biz in the '70s & '80s!
Pure Pop Progeny #1: Steve March-Tormé, "Lucky," United Artists Records, 1977
Steve March, The Velvet Fog's little mist-er, gave the pop-rock lane a try, but eventually found a career learning and then leaning into Dad's musical forte.
Steve March-Tormé is the son of noted longtime jazz and pop singer (and 3-time Grammy winner), Mel Tormé, who wrote the Holiday standard, "The Christmas Song" at age 20 (as well as over 250 songs over his lifetime):
Mel even wrote a song (with Robert Wells, in 1946) covered by rock guitarist, Steve Miller. Steve March is pretty sure Mel was never aware of that cover!
Mel's follows, as does Miller's 1988 cover, produced by keyboardist, Ben Sidran and Miller. They do what they do: What Mel makes a steamy torch song, Miller turns into a cool, jazzy blues, replete with his stinging guitar licks, and featuring jazz vibraphonist, Milt Jackson:
Steve March slid into the singin' biz all right, but he didn't pursue jazz and swing like his dad…not until years following a brief foray into the pop lane. His rock tastes leaned far more toward Joni Mitchell, James Taylor, Todd Rundgren, Steely Dan, and his favorite, The Beatles.
Along the way, though, he rubbed Hollywood show-biz elbows with the likes of Lucy, Liza, famous Juniors, Dino Martin & Desi Arnaz, and eventually recorded with Dad.
It's another inspiring story of seeking pop stardom early on, stumbling a bit, but ultimately finding a show-biz niche where your particular talents can shine.
Photo above, circa 1955: Mel Tormé (1925-1999), kneeling on the floor in front of the sofa with his wife, Candy, their infant son, Steve, and their dog. (Photo by Hulton Archive/Getty Images)
The Steve March Origin Story
Steve was born January 29, 1953 to Mel and actress, Candy Toxton. They divorced, and in 1956 (when Steve was 2 1/2), she married actor/comedian Hal March (both shown below), who became Steve's stepdad, and, with Candy, raised Steve and his sister, Melissa at their home in Westchester County, New York.
I Love Lucy fans will recall Hal's two memorable guest spots on the classic '50s sitcom, highlighted in this brief, 11-minute Hal March video bio:
Steve remained close to Dad, Mel, from his separate coast, but, in the mid-'60s, Steve's family moved to Beverly Hills just before he turned 12. They were now in the same geographic neighborhood, but Mel was near-constantly touring with a band or small combo.
As it turns out, Steve, stepdad Hal, Mom Candy, and sister Melissa lived on North Roxbury Drive, just up the street from Lucille Ball's 1000 North Roxbury address in Beverly Hills! Lucy's former residence in its classic appearance….it's been vastly renovated since this photo:
"The first person I met when we moved from Westchester County to Beverly Hills was Desi, Jr.," Steve told interviewer, Harvey Brownstone, in 2022. "He and [Lucy's husband] Gary Morton, came to the door, and Desi, Jr. said, 'Hi, I'm Desi!'" The two became friends quickly, as Desi began working [at age 15…the two are just 10 days apart in age] on his mom's Here's Lucy show in 1968.
As it happens, entertainer Ann-Margret was due to guest on Here's Lucy in a few weeks. Desi, Jr. approached Steve with a request: "'Mom wants to know if you wanna write a song for the show.' Well, I'm flattered," Steve replied, tentatively, "but my writing chops aren't that developed quite yet."
Steve had already learned to play guitar, "but, I was not James Taylor by any means," he told Brownstone. Nevertheless, he penned a song ["Country Magic," with a bit of a Bo Diddley beat], and Lucy loved it.
"They arranged my song for a big band, and Desi [as his show character, Craig Carter] and Ann-Margret ended up singing it on the show," Steve concluded, with a chuckle of resignation:
Around that same time, Steve's dad (and longtime friend of Lucy's…I guess in '60s Hollywood, who wasn't?) appeared on The Lucy Show, with vaudeville tap dancer/actor/singer, Louisville native John Bubbles, on a two-part episode called "Hometown, USA." Bubbles, born John Sublett in 1902, died in 1986 in L.A. at 84.
An admirer of Sublett and his dancing, Michael Jackson, in the mid'80s, named his pet chimp, "Bubbles" in John's honor.
Lucy was always eager to help out show biz veterans, especially ones who helped pave the way for others, and might've ended up forgotten or unappreciated. Here's a brief clip with Mel singing and playing piano, with Bubbles, the father of "rhythm tap," doing what he did best:
Pop Progeny Squared
Judy Garland passed away at 47 in June 1969. Mel Tormé wrote a book about her the next year, titled, The Other Side of the Rainbow with Judy Garland on the Dawn Patrol (above). A rather unflattering portrayal of the legendary, but troubled singer/actress, Tormé caught his share of flack for it from Garland's fans and family members, Judy's daughters chief among them.
Liza Minnelli and Steve would end up becoming fast friends, while Liza's sister, Lorna Luft (Hollywood impresario, Sid Luft's and Judy's daughter) was particularly miffed at Mel's tawdry tome. [Editor's note: In 1975, my brother interviewed Ms. Luft on University of Houston's KUHF-FM, who carried his "A Case in Point" interview show that I produced; I don't recall the book being mentioned].
'77 Sunset Trip
1977 was a busy recording year for Steve. Before he laid down tracks for his debut album, Lucky, he entered the studios (Hollywood Sound Recorders and Western Studio One) in late '76 to co-produce (with engineer Rik Pekkonen…they'd team up on Steve's album, too) Liza's 8th studio album, Tropical Nights, on Columbia Records:
Multi-talented Steve also contributed backing vocals, did some of the horn arrangements, and he helped design the album jacket:
Busy with movies and occasional stage work, Liza had little to no time to promote Tropical Nights, and Columbia was loathe to do all that heavy lifting by themselves. If AllMusic's William Ruhlmann can be believed, it may have meant little, anyway: "Minnelli dove headlong into disco and funk for the better part of Tropical Nights, much of which was written and arranged by Jim Grady.
"Instead of ruling over the pumping funk tracks with her emotive voice, however, she was buried in the mix, singing on the beat. Only in the last tracks on Side Two does the pace slow, the strings swell, and the singer step out. But that hasn't kept Tropical Nights (with its fashion-plate cover that seemed to recall her 1975 film, Lucky Lady) from being as confused as it is confusing. No wonder Minnelli abandoned a recording career for years afterward."
Steve's Lucky Streak
Signed to United Artists Records, Steve returned to Hollywood Sound (and Capitol Studios) to record his debut album, Lucky in 1977, co-produced again by March and Pekkonen. Session players here included Gayle Levant on harp, acoustic bassist Max Bennett, Little Feat guitarist Paul Barrere, guitarist Fred Tackett, and three Jazz Crusaders: trombonist Wayne Henderson, bassist Wilton Felder, and guitarist Arthur Adams.
A decent athlete (and currently an avid tennis player), and lover of baseball (and his hometown Yankees, growing up), Steve posed in a baseball uni on the Lucky back cover, and wrote ten of the album's 12 songs: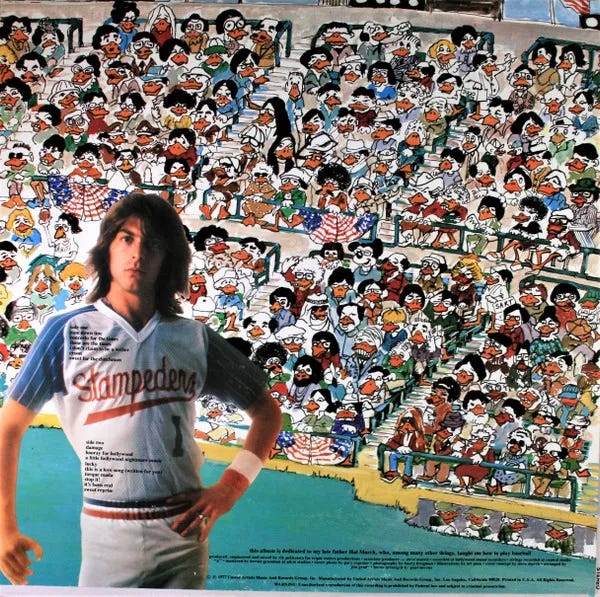 Drop the needle: A 5-minute handful of song clips from the Lucky album:
Harvey Brownstone's recent audio/video interview with Steve:
A true grand finale duet: Steve and Mel, early 1999…two takes, they had it. A few months later, Mel had a stroke and never sang again. Steve's dad passed away on June 5, 1999 at age 73.
Now 70, Steve and his family live in Wisconsin, where he frequently hosts a radio show that can be streamed at Avenueradio.com.
FRONT ROW & BACKSTAGE is a reader-supported publication. To receive new posts and support my work, consider becoming a free subscriber! To receive new posts, support my work, and receive up to TWO EXCLUSIVE BONUS GOLD PASS POSTS a month, please consider upgrading to a Monthly (only $5) or Annual (just $45) Subscription! Thank you!