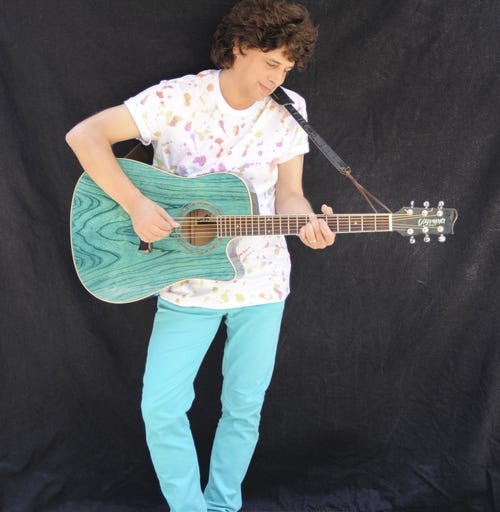 May 31, 2022 • 3M
Stephen Michael Schwartz, Off the Clef #5: The Late '70s Collab Sessions, "Only Everyday" w/Jay Asher, Sung by Clint Holmes SONG DEMO
Veteran songwriting legend, Barry Mann ("You've Lost That Loving Feeling" et al), gives the thumbs up to Stephen and Jay's "Only Everyday." That doesn't happen every day.
Go behind the scenes of my years in FM rock radio and the record biz in the '70s & '80s! Plus, in his own words, singer/songwriter/guitarist, Stephen Michael Schwartz (RCA Records recording artist, 1974), leads us through his music and TV career!
ABOVE: "Only Everyday," sung by Clint Holmes (words and music by Jay Asher, ©Big Duck Music/BMI, and Stephen Michael Schwartz, ©Busy Body Music/BMI)
"It's 1977. Where to go next? What to do next? Am I a 'one-trick-pony'? Did I get my one shot at 'the big time' [three years before] with RCA Records only to be slapped down to reality…proving I didn't have the goods?
"It's so easy to accept the negative thoughts of rejection, and then let that ruin you. Suddenly everything I did I began to question. Am I just too sensitive? Being 'thick-skinned' was never my strong suit…ironic that I should choose a profession where 'No' was heard more often than 'Yes.'
"I met and collaborated with some wonderful singer/songwriters."
"In between odd jobs to pay rent, I was writing songs, playing clubs, and meeting people along the way. Today they call it 'networking.' I met and collaborated with some wonderful singer/songwriters, some who became lifelong friends and major success stories along the road, with each of them working through their own individual trials and triumphs.
"Collaborating, I found, was also consoling: It brought peace to the process. Unlike that famous Groucho Marx line, 'I would never join a club that would have me as a member,' I found a club that honored me as a respected member. This series focuses on some of my friends/collaborators and their accomplishments:
Jay Asher, "Hoot Night" Cohort
"Jay Asher and I first met [in the early '70s] at the Troubadour at one of those 'Hoot Nights,' where songwriters often gathered to listen to and meet with other like-minded creative types.
"Jay's talents led him to write hits for Donna Summer, Whitney Houston ("Eternal Love," 1983, with Paul Jabara), and Julio Iglesias ("Two Lovers," 1984)."
[Editor's note: Below is an audio-track video of Karen Carpenter, from a 1979 session from an originally unreleased solo album, only issued by A&M Records in 1996, with her unfinished cover (produced by Phil Ramone) of the Paul Jabara/Jay Asher song, "Something's Missing (In My Life)," which was originally recorded by Jabara with Donna Summer on his 1978 album, Keeping Time.
Carpenter's version did not make the cut of the '96 release, but reportedly exists with nine other songs (that didn't make the final cut) via online bootlegging.
According to this video's presenter, YouTube creator Robert Patterson, "Shortly after I posted this video several years ago, Jay Asher (who co-wrote the song with Paul Jabara) sent me an e-mail saying how much he liked the video and Karen's interpretation of the song, saying that of all the various recordings made of the song that he has heard, Karen's version was his favorite.
"He believed that had her version been released, it would have been very successful."]
Mann of the Hour
Stephen continues: "One of the many songs Jay and I wrote together was 'Only Everyday,' which we thought was pretty good.
"After pitching it to Barry Mann (Songwriting Hall Of Fame Inductee, with his wife, the late Cynthia Weil, co-writer on most of Mann's hits) for his publishing company (Dyad Music/Wixen Music Publishing), Barry said, 'You guys have written a really good song, here. It might even be a great song!'
"This from the writer of 'You've Lost That Loving Feeling' (#1 for The Righteous Brothers in 1965), 'On Broadway' (Drifters, George Benson), 'Here You Come Again' (#3 for Dolly Parton in 1977), 'Somewhere Out There' (#2 for Linda Ronstadt and James Ingram in 1986), 'Just Once' (#17 for Quincy Jones and Ingram in 1981), and so many other hits!"
"Sometimes, just a compliment from a legend can keep you in the game."
In fact, it was James Ingram whom the songwriting duo was zeroing in on to perhaps take a stab at covering "Only Everyday."
Stephen recalls: "Singer Clint Holmes was a friend of Jay Asher's, and after we finished the song, Jay said something along the lines of, 'I think Clint could sing the s*** out of this!' The call was made. The end result [with Clint's expressive vocal] was as Jay had suspected. 
"Jay is a consummate musician, and like Chris Montan (see "Off the Clef" #1) was much more knowledgeable about music theory than I. As with Chris, Jay and I both took on writing music and lyrics together, but my emphasis here was more on the lyrical storyline.
"Jay has often mentioned to me that he thought my most brilliant lyric was, 'My coffee's cold, My face looks old' in the second verse. He said he would never have come up with that. 
"Such is the collaborative process: Two heads are sometimes better than one!
"'Only Everyday' was recorded by Jay Asher on his recent Honestly album, but we hope you also enjoy this lovely demo sung by Clint Holmes, who had a #2 hit in 1973 with 'Playground in My Mind.'"
"Now 76, Holmes was born in the UK, and was Joan Rivers' announcer on her late night Fox network talk show 1986-88."
Readers: Press "Play" (or the blue "Listen Now" button on e-mail) on the song player at the top of the page to listen to "Only Everyday," sung by Clint Holmes, and written by Stephen Michael Schwartz and Jay Asher.
Related:
Front Row & Backstage is a reader-supported publication. To receive new posts and support my work, consider becoming a free or paid subscriber.
Begin the continuing Stephen Michael Schwartz career journey on FRONT ROW & BACKSTAGE, here, with EXCLUSIVE INTERVIEW PT. 1: