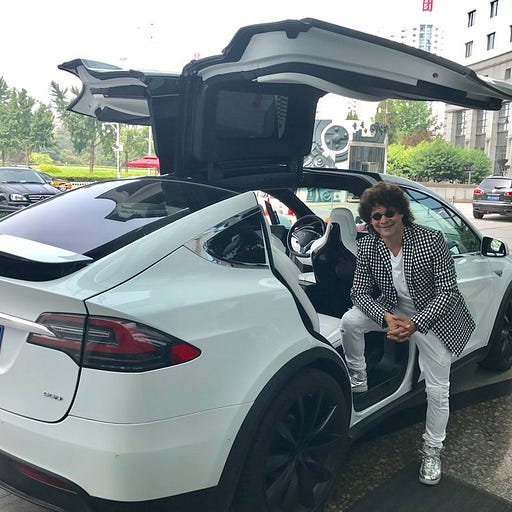 May 24, 2022 • 4M
Stephen Michael Schwartz, Off the Clef #3: The Late '70s Collab Sessions, "Light Years Away" w/Jeff Barry SONG DEMO
A pillar of the '60s "Girl Group" sound, Rock'n'Roll Hall of Famer Jeff Barry penned a song with Stephen. Listen to the rare demo here...produced by Barry!
Go behind the scenes of my years in FM rock radio and the record biz in the '70s & '80s! Plus, in his own words, singer/songwriter/guitarist, Stephen Michael Schwartz (RCA Records recording artist, 1974), leads us through his music and TV career!
ABOVE: "Light Years Away," sung by Stephen Michael Schwartz (words and music by Jeff Barry and Stephen Michael Schwartz, ©Busy Body Music/BMI)
---
"It's 1977. Where to go next? What to do next? Am I a 'one-trick-pony'? Did I get my one shot at 'the big time' [three years before] with RCA Records only to be slapped down to reality, proving I didn't have the goods?
"It's so easy to accept the negative thoughts of rejection, and then let that ruin you. Suddenly everything I did I began to question. Am I just too sensitive? Being 'thick-skinned' was never my strong suit…ironic that I should choose a profession where 'No' was heard more often than 'Yes.'
"It brought peace to the process."
"In between odd jobs to pay rent, I was writing songs, playing clubs, and meeting people along the way. Today they call it 'networking.' I met and collaborated with some wonderful singer/songwriters, some who became lifelong friends and major success stories along the road, with each of them working through their own individual trials and triumphs.
"Collaborating, I found, was also consoling: It brought peace to the process. Unlike that famous Groucho Marx line, 'I would never join a club that would have me as a member,' I found a club that honored me as a respected member. This series focuses on some of my friends/collaborators and their accomplishments:
Jeff Barry: Songwriter, Producer, Living Legend
"Jeff Barry and I were introduced to each other by my dear friend and multi-faceted illustrator/artist, Robert Florczak.
"Jeff, now 85, is a songwriting legend who along with his partners, wife Ellie Greenwich, and record producer, Phil Spector, wrote some of the biggest hits in pop music including, 'Da Doo Ron Ron' and 'Then He Kissed Me' by The Crystals, 'Be My Baby' and 'Baby, I Love You' by The Ronettes, The Dixie Cups' 'Chapel of Love,' and The Shangri-Las' 'Leader of the Pack' (written by Barry, Greenwich, and producer, Shadow Morton), as well as Darlene Love's holiday perennial, 'Christmas (Baby Please Come Home).'
"Barry and Ellie were both inducted into the Songwriters Hall of Fame in 1991. In 2004, Rolling Stone's list of the 500 greatest rock songs included six Greenwich-Barry compositions, more than any other non-performing songwriting team!"
[Editor's Note: I met Jeff Barry about a year or two after his songwriting/demo recording session with Stephen. I moved from Houston to L.A. in January 1980, and a good friend, Lisa Hartman (a fellow Houstonian whose family was good friends with mine; we dated briefly in junior high), was kind enough to arrange to have me meet Jeff, as I'd been a fan for years.
Lisa had moved to Hollywood in the mid-'70s, and signed a recording contract with Don Kirshner's label, Kirshner Records, a newly-founded Columbia Records affiliate. Jeff Barry produced her self-titled debut in 1976, as well as her second album, Hold On, three years later.
Related:
Sometime in 1980 or '81, Jeff was generous enough to arrange a brief meeting at his office on upper Sunset Blvd. We chatted for a moment, and I'm sure I had him sign something. I wish our meeting could've been longer, but I was impressed by his kindness and generosity for the time he did allow me.
Interesting "small world" note: Lisa and Stephen's wife at the time, actress Wendy Schaal, both starred in the theatrical release, Where the Boys Are, a 1984 re-make of the 1960 "beach romp" movie.]
Takin' Notes: Jeff Barry's Songwriting 101
An informative and concise video interview with Barry by Alyce Faye (6:30, date unknown) follows. In it, Jeff details his typical songwriting process, undoubtedly the blueprint for how his session with Stephen and his guitar progressed in the late '70s.
At the 2:45 mark, Jeff reveals how he divides the art of songwriting into three parts: "The lyrics, the notes that the words are hung on (the melody), and then there's the part the band plays, which are the chords.
"So, when I come to co-write, I come first for lyrics, second for melody, and last, waaaay last, is chords. I invariably co-write with people who know music and play an instrument. I'm very, very rarely at the instrument. So, I like to write the part the singer sings. And, we may have an idea, a title, and start from that place."
"Jeff suggested we write a song together as one of the tracks we record!"
"Jeff heard some of my new songs and liked them enough to want to go into the studio and produce a few tracks with me with the idea of getting me a record deal with himself as the producer. He also suggested we write a song together as one of the tracks we record!
"To say that I was a bit intimidated to write with such a seasoned veteran is an understatement, but Jeff put all that to rest with his mellow personality and his organic approach to songwriting.
"First, we start with a groove on the guitar, play some chords, hum a rough melody over those chords, then sing jibberish words over that melody. Start refining all. No problem!!! I fell into the ease of our collaboration like we were old pros…well, he was, for sure!
"The result was 'Light Years Away,' words and music by Jeff Barry and Stephen Michael Schwartz. I don't know (although I suspect) that after the sessions were through, and when Jeff pitched our tracks with less than positive reactions from record companies, he moved on to greener pastures.
Readers: Press "Play" on the song player at the top of the page to listen to "Light Years Away."
"I was not offended. On the contrary: I appreciated that he thought enough of my talent to take the time to give this a shot! One of the other songs we recorded in that session was one of my favorites and one I had written alone, 'Wendy When.' I thought it was a hit song!! I think Jeff did, too."
Stephen's "Wendy When" song demo can be heard on the COMPLETE, EXPANDED Edition of "Stephen Michael Schwartz, Off the Clef" by clicking here:
Related:
Readers: Be A&R exec for a day! Which current artist or group might you assign "Light Years Away" in today's market? Which artist might do it justice if an updated recording of the song were to happen?
Front Row & Backstage is a reader-supported publication. To receive the upcoming Exclusive Editions of Stephen's Songwriting Collaborations in the coming weeks (FEATURING RARE, PREVIOUSLY UNRELEASED DEMOS), consider becoming a free or paid subscriber!
Begin the continuing Stephen Michael Schwartz career journey on FRONT ROW & BACKSTAGE, here, with EXCLUSIVE INTERVIEW PT. 1: